---
Hi, my name is Jake!! Welcome to my webpage!

I have lots of things I like to do, but I REALLY like to chew things up! Some of my favorite things are shoes, clothes, my toys, and especially my chew bones. I like our cat Onyx, too, but she's isn't real wild about me. You can see her on the next page.

My mom adopted me from the shelter on the Army post where we used to live and I was my dad's Christmas present!! He was so happy to see me waiting for him - red bow and all!!

Here's a picture of me when I first came to live with my mom and dad: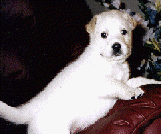 Wasn't I cute?

<&nbsp>

My mom and dad are going to have a baby!! They tell me that the new baby will be here on May 25, 2001. I'm not really sure what a 'baby' is, but since they're both so excited, I am too!! You can see updates of the baby here.



---
Jake's Choice - these links get my Golden Goodie award!!

Want to find out how to get one for your site? Click here!


---
Jake's Links - see my kitty and my aunt Oreo!
---
E-mail me!

jennycub@yahoo.com



---
Here's some rings that I'm a member of!
MEMBER
of the POD
---
Check out my awards and new friends!!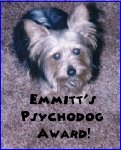 This site made me sad - please visit them and give them your support!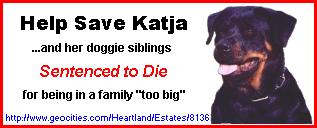 ---
Sign My Guestbook!
View My Guestbook
---


This site powered by Lycos!

Most animated gifs on these pages courtesy of www.gifs.net Check it out. Over 1250 FREE animated and still gifs!

Jakesaurus Rex
Last revised: December 28, 2000.